News
Home
• News
---
View Current News Articles
NOTICE OF PUBLIC HEARING, July 18, 2019
Article Published 06/26/2019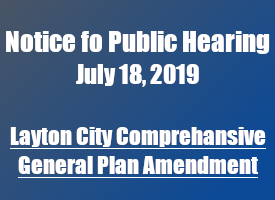 Layton City Comprehensive General Plan Amendment NOTICE OF PUBLIC HEARING, July 18, 2019

Notice is hereby given that the Layton City Council will hold an issues only public hearing to review a proposal to update the City's general plan as a comprehensive general plan amendment. The PUBLIC HEARING will be held at 7:00 P.M at City Council Meeting, THURSDAY, JULY 18, 2019, City Council Chambers, Layton City Center, 437 North Wasatch Drive.

If you desire further information regarding the proposed changes for use of land in Layton, please visit www.laytonforward.org or contact the Community & Economic Development Department, (801) 336-3780.