News
Home
• News
---
View Archived News Articles

REMEMBERING WORLD WAR I--Heroes
Article Published 09/08/2017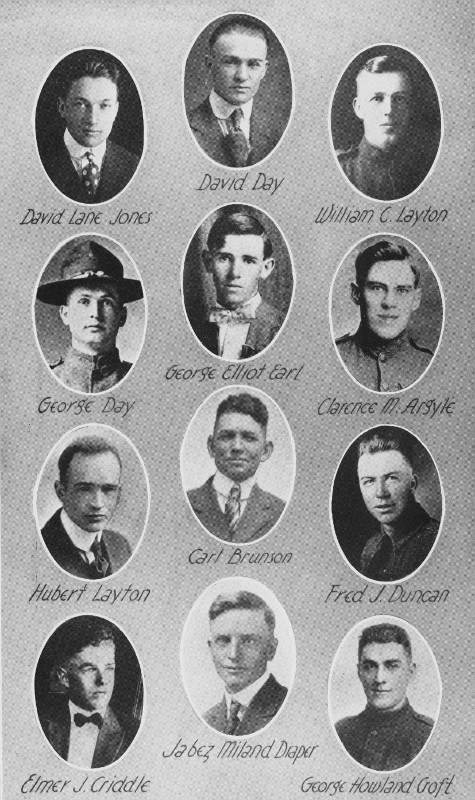 In 2017 we remember the 100th anniversary of the U.S, entering World War I.
On April 2, 1917, U.S. President Woodrow Wilson appeared before a newly elected Congress to ask for a declaration of war against Germany. In part of his speech, President Wilson said: "We have no quarrel with the German people, but only with the military despotism of Germany. The world must be made safe for democracy."
Four days later, April 6, 1917, the U.S. entered WWI. Young men from Davis County immediately enlisted or were drafted and following several short weeks of training were ready to serve. In Davis County, 454 volunteers or draftees (including three woman) were part of what came to be known as "The Great War." Thirty-one joined the Navy, 15 served in the Marines and 405 wore an Army uniform. The three women joined the Army as Red Cross nurses.
The names of those who served are engraved on a special memorial plaque that hangs in the old Davis County Courthouse.
Some Davis County soldiers never left the U.S., while others did reach France. However, only a hand full reached the front lines, but many suffered from dysentery, influenza, typhoid fever and cholera.
Twelve county men gave their lives in this conflict either through combat injuries, accidents or sickness. Elmer Criddle, George Day and Jabez Draper were killed in action; George Croft died of wounds received in action; David Day and David Jones died of influenza; Clarence Argyle, Carl Brunson and George Earl died of pneumonia; Frederic Duncan died of measles; Hubert Layton died of typhoid fever and William Layton died in a train wreck on the way to the front lines.
Today, these heroes are mostly unknown except as their memories are kept alive by family members and a few county memorials. However, today's generation can not thank them enough for what the did.
(The attached photo shows the twelve men who lost their lives in the conflict)