Heritage Museum Blog
---
View Archived Articles

LAYTON'S TREASURE CHEST--Horseless Carriage
Article Published 08/29/2017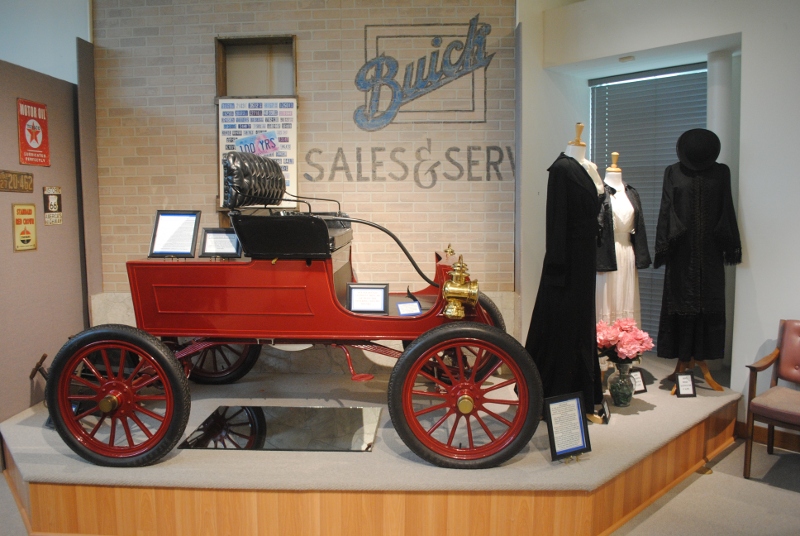 The Heritage Museum of Layton is filled with priceless antiques--each artifact having its own unique and fascinating history.
For example, there's the 1903 horseless carriage.
The horseless carriage on display at the museum was built by the Olds Motor Vehicle Company in Lansing, Michigan in 1903. It was called a Northern (its brand name) and was designed by Ransom E. Olds, the founder of the motor vehicle company. Mr. Olds first started to build cars in 1897 and by 1903 his company was producing about 425 cars per year. For many years, the vehicles produced by Mr. Olds were called horseless carriasges, and then they became "Olds Automobiles" and eventually "Oldsmobiles."
The car that is on loan to the museum was owned by Layton resident James Morgan. Many years ago, Mr. Morgan restored the car to its current condition. An automobile restoration specialist in Wendover, Nevada helped Mr. Morgan redo the car and for a few years Mr. Morgan drove the car throughout Layton and Davis County.
Mr. Morgan was especially proud of his car and he often drove it in Layton 4th of July parades. For many years the car could keep up with marching bands and other parade entries, but often it would overheat and stall so it has not appeared in a 4th of July patrade for many years.
The 1903 Northern horseless carriage has been a prominent feature of the Heritage Museum of Layton for over 25 years, and the museum staff and Board of Directors are grateful to the Morgan family for allowing the museum to continue to share this priceless gem with the general public.