News
---
View Archived News Articles

REMEMBERING WORLD WAR I--War Memorials
Article Published 01/10/2018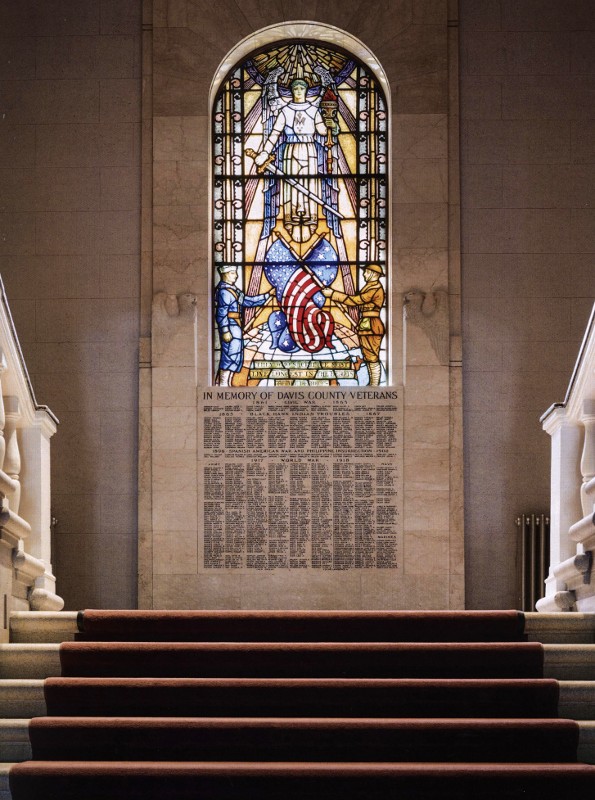 Recently, the Utah Division of State History published a booklet highlighting the war memorials that have been created statewide to honor the soldiers, sailors, marines and nurses who served our country in World War I. The publication was created by the UDSH under the auspices of the Utah World War I Centennial Commission and in partnership with the Utah Department of Veterans and Military Affairs.
In the booklet the following information is given: "Utah's contribution the the war was significant: 24,000 Utahns were enlisted in the armed services, with 864 among the wounded and 665 who died. Soon after America's involvement in the war that started in April 1917, Utahns began organizing to assist the veterans and families affected by the conflict. The Service Star Legion, the Daughters of the Utah Pioneers, the American Legion, the Utah Copper Company and others eventually produced memorials to veterans. Though varied in appearance and sponsorship, Utah monuments generally conveyed a message of pride and a desire to publicly remember the war dead.
"Among the most influential commemorative organizations in Utah during the interwar years was the Service Star Legion. The group's name referred to the flag that was often displayed in the homes of soldiers, and the Legion was made up largely of women whose children had served in the war. The local forerunner of the Legion was the War Mothers of Utah, which organized in July 1918 to provide comfort and recognition to soldiers and their families.
"The Legion outlined a mission corresponding with the five points of the 'service star'--relief, remembrance, sisterhood, education and vigilance. The Utah Division focused largely on remembrance during the 1920s and 1930s. During this time, individual chapters constructed monuments throughout the state."
Of the many monuments dedicated throughout Utah, the most noted and probably the most frequently visited are the monuments in Memory Grove Park, along City Creek, in Salt Lake City. The Davis County Veterans Memorial is housed in the old Davis County Courthouse in Farmington, Utah. The building was built in 1931-1932 as an expansion of an older courthouse and space for a war memorial was incorporated into the building's expansion design. Included was a space for a stained glass window tribute to the county's veterans. The beautiful art work memorializes (in its inscription) veterans of the Civil War, the Black Hawk Indian Troubles, the Spanish American War and Philippines Insurrection and World War I. The stained glass scene depicts a victorious angel heralding the efforts of a sailor and soldier, who are holding the flag of the United States over the world. The memorial contains the inscription: THEY WHO SACRIFICE MOST LIVE LONGEST IN THE HEARTS OF THE PEOPLE.
(Copies of the 'Utah's World War I Memorials' booklet are available at the Heritage Museum of Layton. Also, the attached photo is courtesy of the booklet publisher)