News
Home
• News
---
View Archived News Articles

LAYTON'S TREASURE CHEST--Medical Bag
Article Published 10/05/2017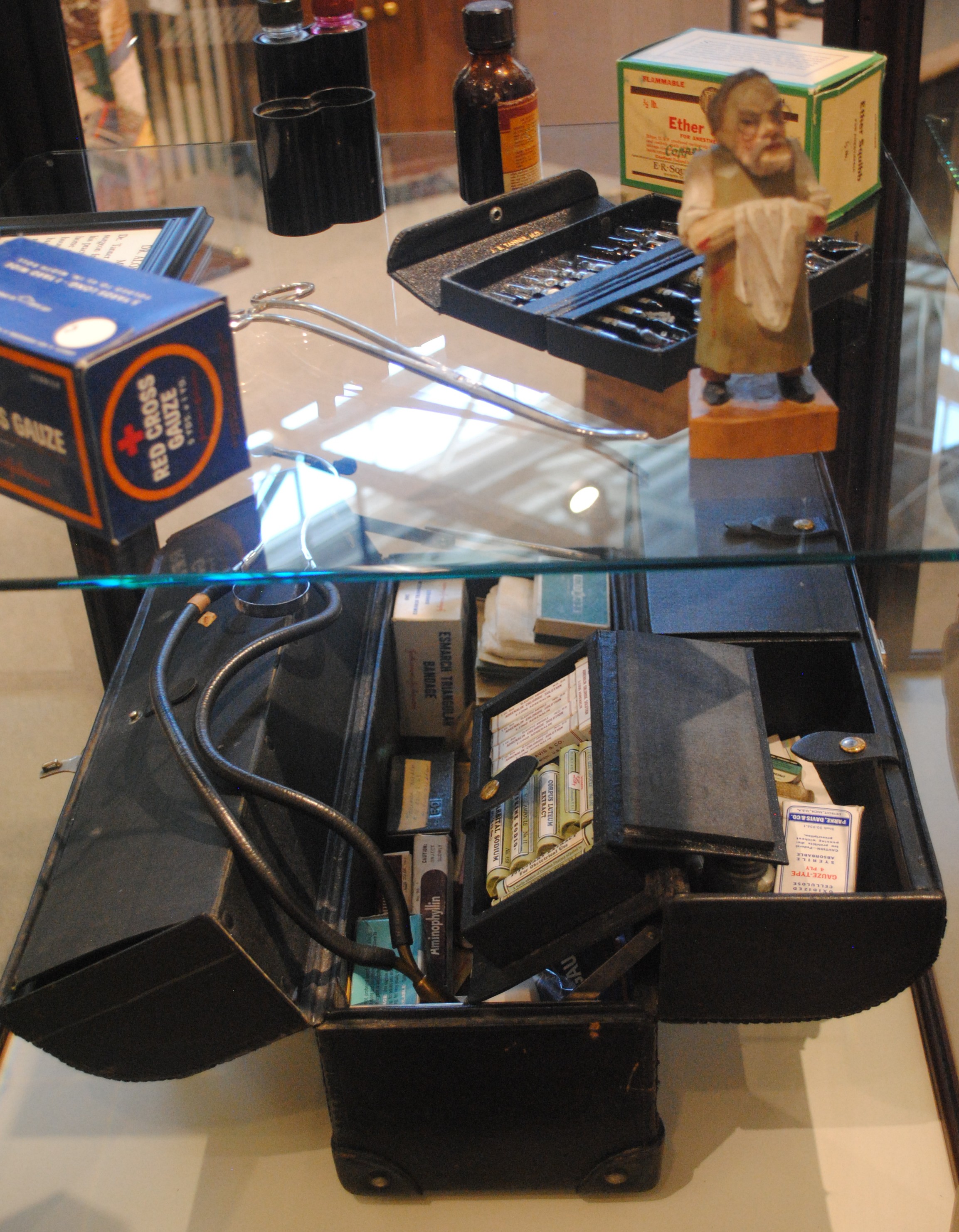 The Heritage Museun of Layton is filled with hundreds of priceless relics--each artifact having its own unique and fascinating story.
For example, there's Dr. A. Z. Tanner's medical bag.
Dr. Alonzo Z. Tanner came to Layton in 1912. He was born in Clover, Tooele County, Utah in 1881. He received his early education in Tooele and Salt Lake county schools and then graduated from the University of Utah with a Bachelor of Science degree. He taught school in Utah for a couple of years and then enrolled in the Rush Medical School, Chicago, Illinois. In 1909. he did his residency at the Cook County Hospital in Chicago and after a year at that hospital he returned to Utah and set up his first practice in Farmington, Utah. In 1912, he moved to Layton to take over the practice of Dr. Fredric Cliff who had died unexpectedly.
In the beginning days of Dr. Tanner's Layton practice, there were few good roads and very few telephones. Transportation was difficult at best and sometimes impossible. Although Dr. Tanner owned an automobile, it could only be used during the dry season. When the weather was bad, a horse and buggy had to be used; and at times, it was necessary to go by horseback to the doctor's frequent house calls.
When Dr. Tanner made a house call, he took with him his oversized, black leather, stuffed to the brim medical bag. In the bag were all of the medical supplies and tools needed to cure illness, set and cast bones, perform minor operations, treat burns, abrasions and serious lacerations and compound salves and ointments that we find today in a modern pharmacy. In the early years of Dr. Tanner's practice, there was a small hospital in both Layton and Kaysville, but much of the medical assistance he gave was on the spot within the patients home. Dr. Tanner frequently performed minor surgery on the patient's kitchen table and many children in the same family had their tonsils removed in the same home operating theater. Extremely serious medical cases were generally transported to the Dee Memorial Hospital in Ogden where Dr. Tanner was a staff physician.
Dr. Tanner's first office was in the Layton Hospital (the upper story of the Ernest Layton Hardware Store on Main Street). In 1916, he moved his office to the east room of the home he built at 418 West Gentile Street. This was his primary office for the next thirty-one years.
In Septemberr of 1946, Dr. Tanner was performing surgery and making some routine hospital visits. After performing the surgery, he retired to a room in an Ogden hotel to rest. While at the hotel, he suffered a massive heart attack and died. He was sixty-four years old. At the time of his death, a medical clinic was under construction in Layton a few hundred yards east of his home. The Tanner Clinic on West Gentile was the first medical clinic to be built in Northern Davis County. Today it is one of the most respected medical clinics in the West.
Today, you can see Dr. Tanner's 107 year old medical bag in the museum's south gallery.