News
Home
• News
---
View Current News Articles

CLOVER J. SANDERS--Chairman of the Board
Article Published 01/10/2018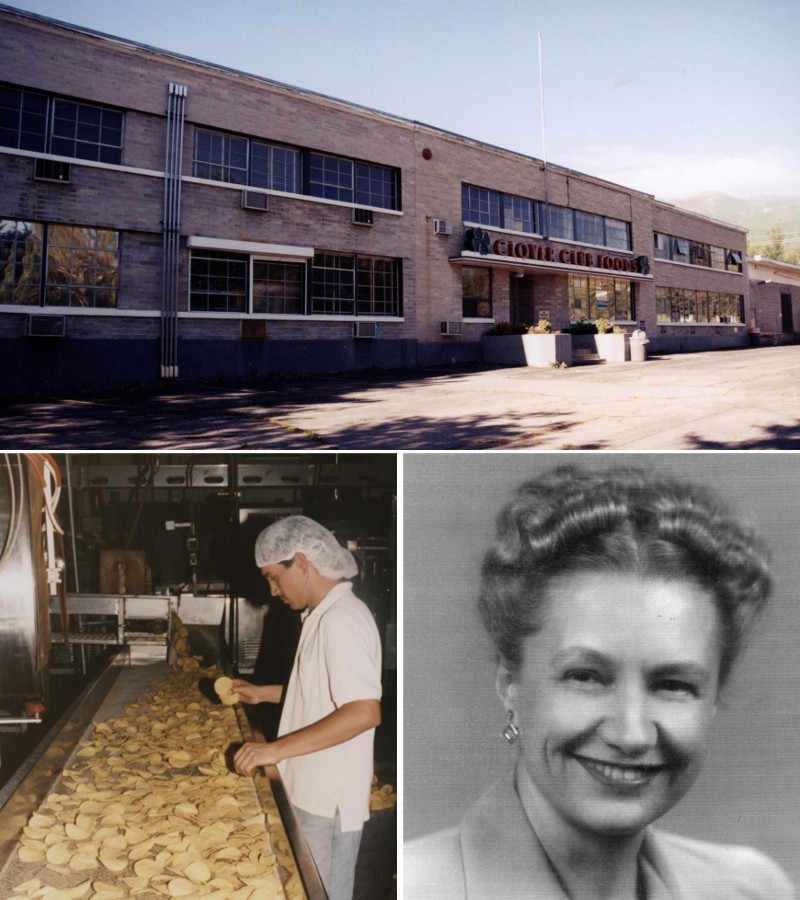 Over the years, there have been few Davis County women who have been so successful in business that they were elected Chairman of the Board of a major Utah corporation. However, one Kaysville woman holds that distinction. In 1980, Clover J. Sanders assumed the responsibility of Chairman of the Board of Clover Club Foods, a successful Utah company that she co-founded.
In 1938, Newell V. (Hod) Sanders and his wife founded what was then called Clover Club Potato Chips. It was Clover's job to do the cooking and Hod delivered the chips door-to-door and store-to-store hoping to sell enough chips to be able to buy the potatoes needed for the next batch. The chips were produced in a small building on Kaysville's Main Street and few people in 1938 believed that selling potato chips could become a profitable business because as Hod's mother said "people will only buy potato chips for summer picnics."
Clover Johnson was born in Price, Utah in 1903. She grew up in Eastern Utah and the at the age of five she moved to Provo where her father became a music teacher at the Brigham Young Academy. Because of her father's association with the school, Clover was allowed to enroll in the BYA kindergarten. In 1916, the family moved to Logan, Utah and Clover graduated from Logan High School. At age 16, she enrolled at Utah State Agricultural College majoring in music, drama, and physical education. She was the first--male or female--to graduate in Utah State's physical education program.
She taught at South Cache High School and it was there that she renewed a friendship with a man she had met at Utah State, Newell V. (Hod) Sanders. The couple married on May 28, 1928.
After working at various hard to find jobs in New York and California during the Great Depression, the couple decided that they wanted to have their own business. In 1938, armed with little more than enthusiasm they moved back to Hod's home town of Kaysville. Taking their life savings, experiences learned at other snack food companies, and with a few pieces of second-hand equipment, they rented a "back room" in a vacant Kaysville building and Clover Club Potato Chips was born.
From this humble beginning, Clover Club grew into a major western snack food company with product distribution in 11 western states and processing plants in Utah, Idaho, Arizona, Colorado, New Mexico, and California. In newspaper interviews, Clover always credited the company's success to "hard work, determination, sprinkled with a little bit of luck." In 1980 she assumed the responsibilities of Chairman of the Board following the death of her husband. She held this position until the company was sold to Borden Inc.
During her lifetime, Clover was an active participant at many civic and church functions. She had a beautiful singing voice and was often called upon to sing at weddings, funerals, holiday celebrations, and at civic and church parties. In the late 1940s, Clover along with a group of Kaysville citizens formed the Kaysville Civic Association. Each year, this group produced a variety of stage productions. The script for the show was written by a Kaysville resident and the musical side of the program was coached and directed by Clover. She took leading rolls in many productions, but was most satisfied when she directed musical numbers performed by the youth of Kaysville. She loved to see the young people perform and personally coached several kids who had exceptional singing voices. Also, during the rest of the year, the KCA produced similar programs for the 4th of July, Pioneer Day, and Christmas celebrations. Clover exhibited her musical talents at all of these programs.
Clover was a co-founder of the LeConte Stewart Art Gallery, a member of the Bay View Club, a member of Kaysville's Commercial Club, a library board member, a Kaysville Elementary School PTA president, one of two women to serve on the Davis County Health Board, and, at the age of 87, she worked to create the Autumn Glow Senior Citizens Center.
Clover J. Sanders died in Salt Lake City on December 24, 1999 at age 96. She was buried in the Kaysville City Cemetery.