Ellison Park
Home
•
Parks and Recreation
•
Parks
• Park
---
Park Rules
Ellison Park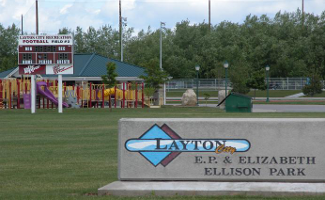 Park Amenities:
44 Acres
350 Parking Spaces
2 Restrooms/Concessions
1 Baseball Field [AAA]
2 Baseball Fields [Little League]
1 Baseball Field [High School]
2 Basketball Courts
DOGS NOT ALLOWED
2 Football Fields
1 Picnic Pavilion
2 Playgrounds
1 Skate Park
8 Soccer Fields
3 Softball Fields
1 Splash Pad
2 Tennis Courts
1 Walking Trail [1 mile]
WiFi - Layton Lightspeed
Splash Pad
The splash pad is a uniquely designed raised play structure and splash pad that consists of over 20 individual water spray elements. Around the raised structure there are seven additional ground level water elements that include features for toddlers and older children. There is a water umbrella, a mega soaker water cannon and the loops and tail of the water dragon.
The splash pad is powered by a state of the art water treatment and recycling system similar to the one used at Layton City Surf 'n Swim. The water is filtered, treated and filtered again using ultra-violet light to make sure it is clean and safe to play in. The treated water can then be recycled through the play system, allowing for greater conservation of the water used to operate the splash pad.
Splash Pad Hours of Operation: The splash pad will be open throughout the summer Monday - Saturday 10:00am to 8:00pm.
Field Layout Maps
Pavilion Reservations
Reservation time periods: 8:00 AM - 10:00 PM
A seven day notice is needed for all online reservations
Pavilions can be reserved for use between May 1 through September 30 each year.
Reservation Fees
Ellison Park
$35 Minimum (4 hours), $8.00 Additional Per Hour
Plus $50.00 Refundable Cleaning Deposit Fee
Seats 150 people
Large Organizations (500+ People): $300 Reservation Fee plus a $300 Refundable Cleaning Deposit Fee.
** ALL FEES DOUBLED FOR NON-LAYTON RESIDENTS OR BUSINESSES **
Contact
Parks and Recreation
465 N Wasatch Dr
Layton, UT 84041
Phone Numbers: