Parks
Home
•
Parks and Recreation
• Parks
---
Park Notices
Commons Park Improvements - Under Construction Sign [Notice Posted 08/21/2023]
437 N Wasatch Drive (Inside Constitution Circle).  Park improvements include an expanded parking lot, pavilion, restroom, drinking fountain station, concrete pathways, and landscaping improvements.  Construction will be going on until SPRING 2024.
Commons Park Improvements
Parks Affected - Layton Commons Park
---
Park Amenities
Football Field - Only parks with this amenity are being shown.

Pavilion Reservations
The pavilions provide a great spot for your family, neighborhood or company gatherings. Layton City has many parks and pavilions to choose from (see below to check out each park). If you have any questions or we can help with a reservation please contact the Parks and Recreation office (801-336-3900).
Parks
Ellison Park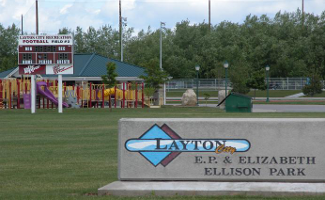 Park Amenities:
44 Acres
350 Parking Spaces
2 Restrooms/Concessions
1 Baseball Field [AAA]
2 Baseball Fields [Little League]
1 Baseball Field [High School]
2 Basketball Courts
DOGS NOT ALLOWED
2 Football Fields
1 Picnic Pavilion
2 Playgrounds
1 Skate Park
8 Soccer Fields
3 Softball Fields
1 Splash Pad
2 Tennis Courts
1 Walking Trail [1 mile]
WiFi - Layton Lightspeed
Contact
Parks and Recreation
465 N Wasatch Dr
Layton, UT 84041
Phone Numbers: