Parks
Home
• Parks
---
COVID-19 City Status Info
Parks
| Registration Dates | Program or Activity | Start Dates | Status (as of 11/9) |
| --- | --- | --- | --- |
| | Playgrounds | Year Round | Open; Please use caution with icy conditions. Be advised that due to weather conditions, disinfectant cannot be used until Spring. |
| | Open Grass Areas | Year Round | Open; please follow all Health Department recommendations |
| | Trails | Year Round | Open; please follow all Health Department recommendations |
| | Park Pavilions | Summer | Closed for the season |
| | Baseball Diamonds | Summer | Open; (weather pending) please follow all Health Department recommendations |
| | Skate Park | Spring, Summer, Fall | Open; (weather pending) please follow all Health Department recommendations |
| | Park Restrooms | Summer | Closed for the season |
| | Basketball Courts | Year Round | Open; (weather pending) please follow all Health Department recommendations |
| | Tennis Courts | Spring, Summer, Fall | Ellison and Chapel Park Open; (weather pending) please follow all Health Department recommendations |
| | Splash Pad | May - September | Closed for the season |
| | Pickleball Courts | Spring, Summer, Fall | Chapel Park Open; please follow all Health Department recommendations |
Park Notices
11/09/2020 Parks Emergency Declaration Response
Playgrounds
Open to the public but use caution with icy conditions. Also be advised that due to weather conditions disinfectant will not be used until spring.
"Lights before Christmas"
November 23rd- December 31st (5:00 pm- 11:00 pm)
Layton Common Park/Constitution Circle (465 N. Wasatch Dr.)
Come and enjoy the 2020 "Lights before Christmas" holiday lighting display in Layton Commons Park (465 N. Wasatch Dr.) Individuals are welcome to walk through the park, but must wear face masks and maintain social distance of six feet from other groups.
Thank you for your cooperation and understanding as we navigate these times. Layton City urges all citizens to continue to follow all Governor and Health Department mandates.
---
Park Amenities
Splash Pad - Only parks with this amenity are being shown.

Pavilion Reservations
Parks
Ellison Park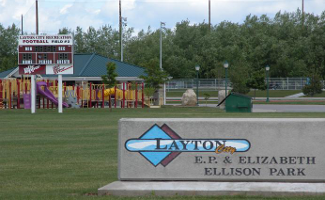 Park Amenities:
44 Acres
350 Parking Spaces
2 Restrooms/Concessions
1 Baseball Field [AAA]
2 Baseball Fields [Little League]
1 Baseball Field [High School]
2 Basketball Courts
DOGS NOT ALLOWED
2 Football Fields
1 Picnic Pavilion
2 Playgrounds
1 Skate Park
8 Soccer Fields
3 Softball Fields
1 Splash Pad
2 Tennis Courts
1 Walking Trail [1 mile]
WiFi - Layton Lightspeed
Contact
Parks and Recreation
465 N Wasatch Dr
Layton, UT 84041
Phone Numbers: